Delcora® Tyres changes the agricultural industry
A right set of agricultural tyres can make all the difference in your productivity. We have developed a new range of Delcora® tyres for agricultural machines, mixer feeders, balewagons, fruit cultivation and forestry trailers.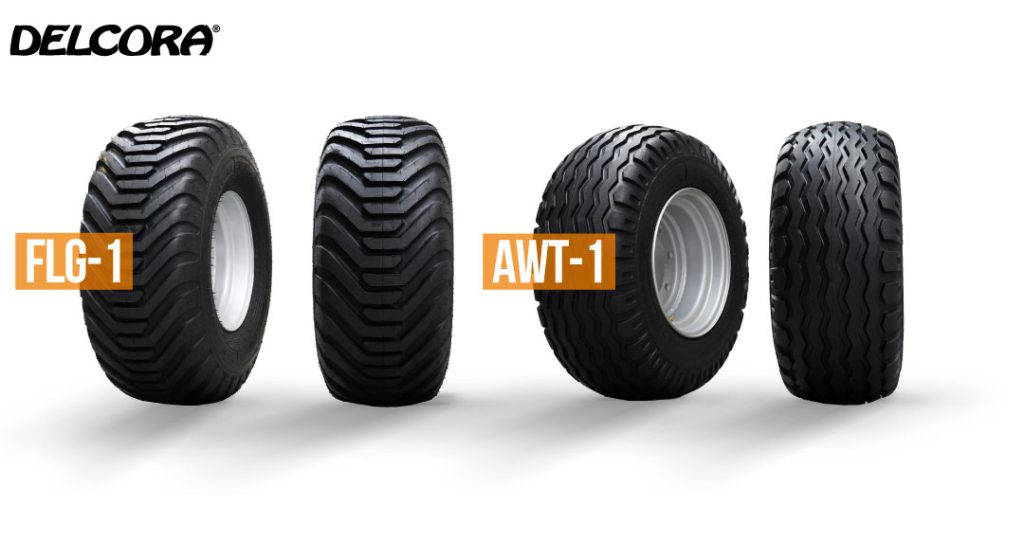 Meet our new Delcora FLG-1 & AWT-1 tyres!
Ever heavier, faster and more effective machinery sets new demands for tyres. Delcora® Tyres is glad to accept the challenge of the rapidly changing agricultural industry. Close collaboration with tractor and other machine manufacturers gives us unique insight for your future needs. From rugged and economical all-round tires to special solutions for winter and other demanding conditions, HBI Tyres & Wheels offers a right set of features for today's farming and machine contracting.

With our Delcora® Tyres you have excellent grip and mobility on soft surfaces
While the Delcora® Tyres FLG-1 & AWT-1 tyre is at its best on the field, it also moves steadily, quickly and lightly on the road. The tread pattern, with a forceful flare to the sides, ensures excellent cleaning properties and secure grip. Designed for normal & heavy agricultural machines, mixer feeders, balewagons, fruit cultivation and forestry trailers. These tyres are available in different sizes. With round-shouldered Delcora® flotation tyres, the traction effort required from a tractor pulling a trailer is up to 40% less than with competing tyre brands.
Delcora® Tyres – Maximum strength & stability!
Excellent road handling environments in agricultural transporting require special properties from a tyre. Our Delcora® FLG-1 & Delcora® AWT-1 tyres are an unique solution to medium and heavy earthmoving trailers and machinery. Its strength and stability are on class of its own either at challenging conditions on site or on road. Tread grooves have been designed for very good self-cleaning.